Release Athens meets SNF Nostos for the big concert event of the summer! One special collaboration, two stages. 20, 21 and 23 of June 2023 First Headliner: Rosalía
At the end of every successful concert, we all always want more! This is exactly what is going to happen this summer through the exciting collaboration between Release Athens and SNF Nostos of the Stavros Niarchos Foundation (SNF). Get ready for more headliners, more stages, more music!
Release Athens x SNF Nostos takes place on June 20th, 21st and 23rd and presents big acts of the global and local scene on two stages, at Plateia Nerou and at The Great Lawn of the Stavros Niarchos Foundation Cultural Centre (SNFCC), being at the same time an integral part of Release Athens 2023. With the support of SNF, on these three days the tickets will be even more affordable with access to both stages.
Spanish Superstar Rosalía will be the first headliner of Release Athens X SNF Nostos.
More names will be announced soon, both for this day and for the next two that will follow.
Rosalía, the ultimate pop icon of our days, is coming to Athens for the first time on Tuesday, June20th, at Plateia Nerou, to prove on stage that she represents everything that modern pop strives to be: a bold sonic mix without barriers and with a willingness to transcend every cultural and music boundary.
Putting the traditional rhythms of flamenco, salsa and bachata with the modern sounds of reggaeton, hip hop and R&B in the same sentence, Rosalía left unsuspecting listeners stunned with "El Mal Querer" (2018), a masterful album that has one foot in mainstream pop and the other in avant-garde. The result was an absolute triumph that swept the Latin Grammy Awards and was included in Rolling Stone's list of the top 500 albums of all time, ranking highest among Spanish-language albums.
In 2022 and with all eyes on her, she released the masterpiece "Motomami", which was praised by all major music publications as groundbreaking and was rightfully at the top of every list of the best albums of the year. She has already collaborated with some of the biggest names in contemporary music (The Weeknd, Billie Eilish, Pharrell, J Balvin, Travis Scott, Cardi B), she is getting ready to headline the world's biggest music festivals with appearances scheduled at Coachella, Lollapalooza, Primavera and Rock Werchter, among many others.
On Tuesday, June 20th, at Plateia Nerou, get ready for a show that the New York Times called "one of the best concerts we've seen in the last five years. Rosalía is a global pop icon à la Beyoncé or Rihanna."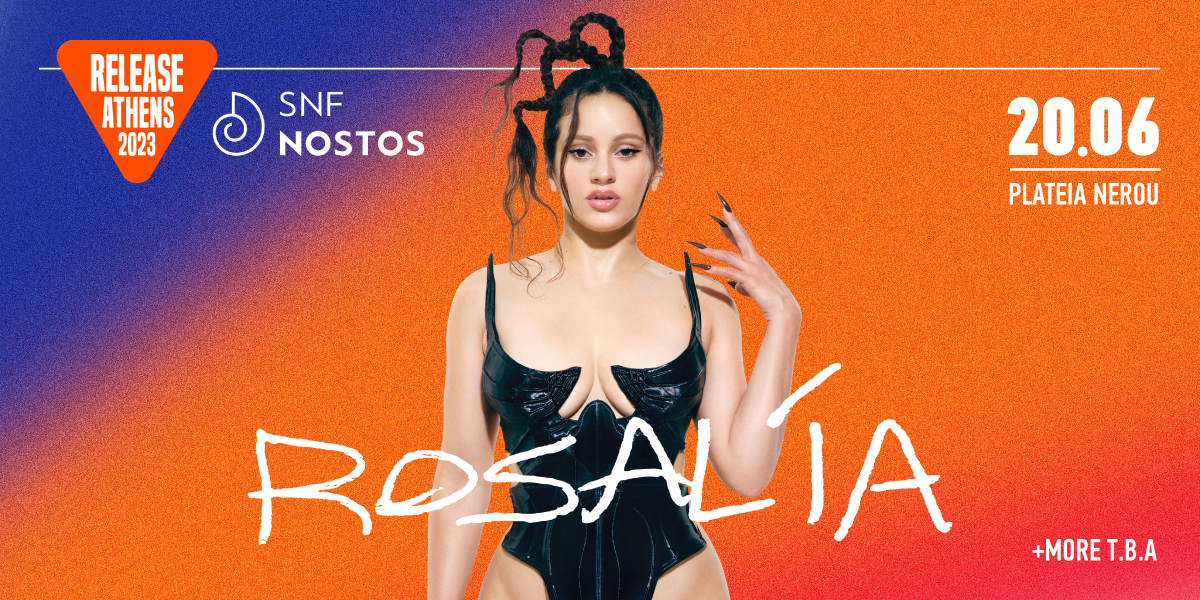 Follow Rosalía
Also, limited VIP tickets are available. This category includes the following privileged benefits:
Separate raised area with stands & stools for everyone
Οpen-bar
Priority of access to the venue
Private parking
Separate toilets
Festival souvenir.
Please note that this specially designed area offering the above benefits is available only in Plateia Nerou but VIP ticket holders have access to both stages.
Tickets Available:
By Phone: at 11876
Online: at  www.releaseathens.gr / www.viva.gr
Retail: Wind, Public, Media Markt, Ευριπίδης, Yoleni'sand Viva Spot Τεχνόπολης
For all information (prices, line up, access etc.) visit www.releaseathens.gr / www.snfnostos.org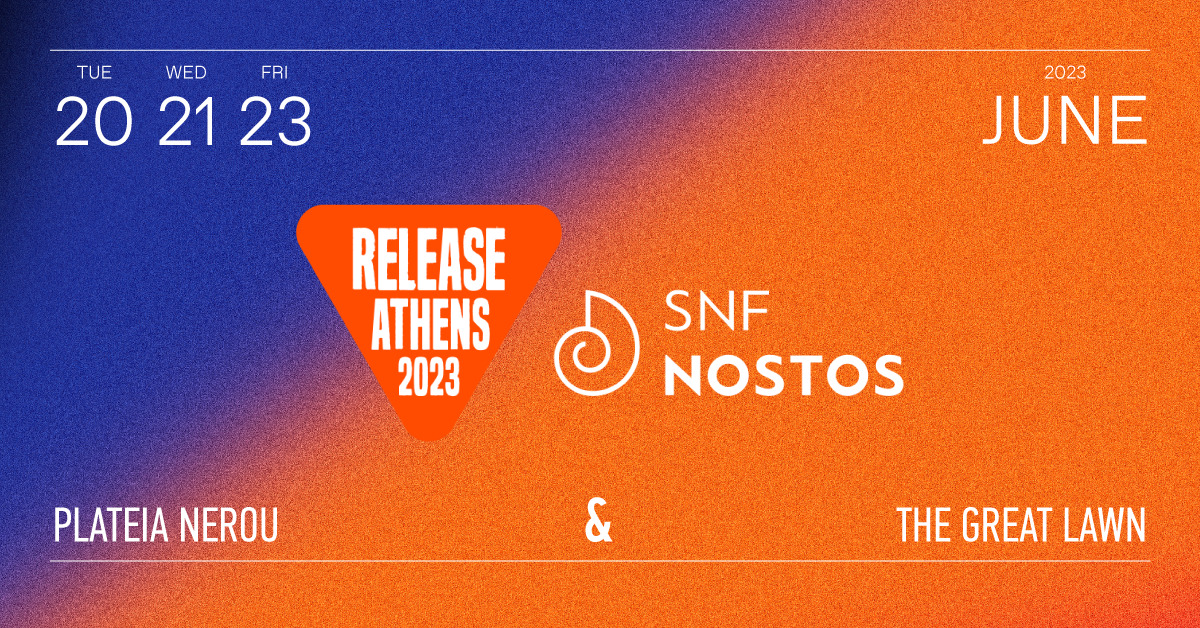 *Ticket proceeds are credited exclusively to Release Athens. The Stavros Niarchos Foundation (SNF) is a philanthropic organization, making grants to non-profit organizations. The SNF does not accept donations from individuals, companies or other types of organizations.
At the same time, the SNF will make additional donations of €500,000 under the name SNF X Release Athens to non-profit organizations with the mission of supporting Mental Health, as part of the broader theme of this year's SNF Nostos, which is dedicated to it.
More about Release Athens 2023
Release Athens launched in 2016 and since then has become one of the most important summer music events in Athens, and in Greece in general, centered on Plateia Nerou, a beautiful seaside venue within minutes of downtown Athens.
Having hosted some of the biggest acts of the global music scene in the last few years (Iggy Pop, Nick Cave & The Bad Seeds, Slipknot, PJ Harvey, Pet Shop Boys, Judas Priest, Jamiroquai, London Grammar, Alice In Chains, Parov Stelar, Sigur Ros, Damian Marley, Liam Gallagher, Richard Ashcroft, among many others), Release Athens returns for its 6thedition with an even bigger lineup and with the motto "Making Memories Together", true to the main principle that has been its inspiration since day one: Artists, music fans and our staff all shaping, together, the unique experiences and memories that will stay with us forever.
More about SNF Nostos 2023
The music programme is just one of the aspects of the multifaceted open event of SNF Nostos of the Stavros Niarchos Foundation (SNF), which this year takes place from the 20th to the 23rdJune at the SNFCC, focusing on Mental Health. As every year, the programme includes the SNF Dialogues, the SNF Nostos Conference, the evening SNF Nostos Run, as well as an arts programme. Learn more about the 2023 SNF Nostos at snfnostos.org