Two legendary groups, the seminal Slipknot and the Brazilian superstars Sepultura at Release Athens!
Release Athens proudly presents one of the top metal bands in the world!  Slipknot will be at Plateia Nerou, on Saturday, July 23rd 2022, for an unforgettable show! The mighty Sepultura will also join them on the bill to form a lineup that will end this year's edition of the festival with a bang!
More names to be announced soon!
From the first moment Slipknot were introduced to the public, it was obvious that the planet had never seen anything like them before! The provocative nine-member "gang" from Iowa, USA, conquered everything with a series of classic records and, most importantly, with their live performances. Their shows are, truly, beyond any comparison.
At the same time, they changed the map of metal music forever and gained millions of loyal fans, spreading their darkness and rage with albums such as Iowa, Vol.3: (The Subliminal Verses) and the amazing We Are Not Your Kind (without a doubt one the best records of 2019).
They return to Greece after many years, promising a festival experience of epic proportions, one that their faithful Maggots have never seen before! After all, Corey Taylor's words are plain and simple: "We do not play shows. We start wars."
On July 23, 2022, at Plateia Nerou, we will be subjected to arelentless sound attack with songs like "People = Shit", "Surfacing", "Duality", "Wait and Bleed", "Unsainted", "Disasterpiece", "Before I Forget" and "Psychosocial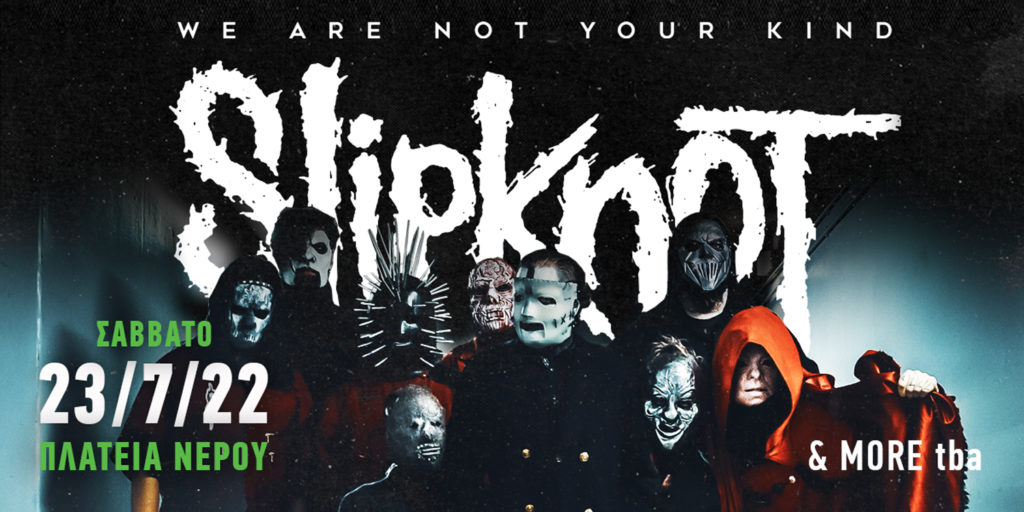 Follow Slipknot:
Official Website
Facebook
Instagram
Twitter
YouTube
---
The state of the metal scene would be completely different without the Sepultura sound! For more than thirty years, they've been at the forefront of the genre, constantly evolving and influencing the younger acts. While their jumping off point was thrash and death metal, they incorporated influences from a range of different styles (such as groove and alternative metal) to create their own blend, a distinctive sound that made them one of the legendary bands of this era.
With more than 20 million records sold, this is a live act not to be missed. With Andreas Kisser (lead guitar, backing vocals) and Paulo Xisto Pinto Jr. (bass, backing vocals) as the driving force and together with the "force of nature" named Derrick Leon Green (lead vocals) and the "rock solid" Eloy Casagrande (drums), Sepultura are at the peak of their powers and the last day of Release Athens 2022 will start with a cry for: "Roots, Bloody Roots".
Follow Sepultura:
Tickets Available:
By Phone: at 11876
Online: at  www.releaseathens.gr/en/ www.viva.gr
Retail: Wind, Public, Media Markt, Evripidis Bookstores, Yoleni's and Viva Spot@Technopolis
Release Athens 2022 send an important message to every music fan: "Release The Earth From Plastic". For the duration of the event -and where is possible- we'll use biodegradable / recyclable material and renewable energy sources. Let's all take the basic steps to protect the environment and improve our lives. More to follow soon.